In Spain exist great web of Vias Verde (Green Routes) which you can complete by bike or on foot. Most of the routes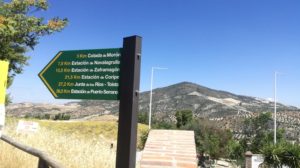 are made on the old train tracks which are not used anymore or have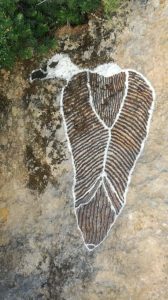 never been used, like the one in Grazalema mountains. This amazing route is high in the mountains but it´s flat. It is 36,5 km long from Olvera to Puerto Serrano.  We just did the whole route even though the official website shows the closure in the middle of the path.
It is great track, well prepared. We did it down the hill from Olvera to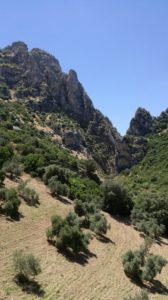 Puerto Serrano with our 6 year old. The way back is more up hill, so with the little one we finish in Coripe.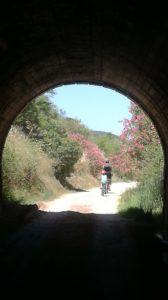 The route has 30 tunnels and 5 viaducts along its way. Great views, long dark tunnels where you can cool down from the summer sun.
On the way there are old train stations with restaurants but it worth to check if open. The one in Coripe in the middle  of the track is closed on Wednesdays.
We stayed overnight in the old train station in Puerto Serrano, great family apartments, good food. On the way back we stopped over in Corope station for lunch. Very good homemade food, good prices.
Although summer is not the best time to do the trip due to high temperatures in the mountains. This year July alowed us to do it with temperatures below 30°C
Recommended for a family adventure.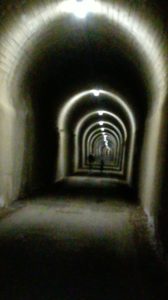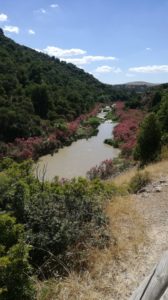 Important, you need bike lights for some tunnels. Most long tunnels have electric lighting but there is one 500 m long, completely dark.
Olvera is 1 hour 15 minutes by car from Cortijo Flamingos. You can leave a car there and go back the same route next day to collect your car. There are places where you can rent a bike in Olvera or in Puerto Serrano.