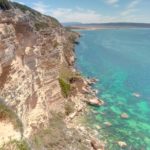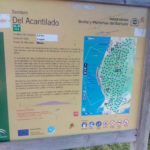 There are plenty of different National Parks and amazing walking routes. One of our favourites is only 30 minutes drive from Cortijo Flamingos – Sandero del Acantilado (Torre del Tajo).
The route starts just outside of Barbate and goes on the top of the cliffs in Natural Park Breña y Marismas del Barbate. It runs for 4km to the Torre del Tajo or you can continue up to the beach in Caños de Meca (7,2 km the whole trip).
On your way, you can enjoy the views over the Atlantic Ocean, beaches in Barbate, Zahara de Los Atunes and Morrocan mountains on the horizon line. On the way you would see typical flora of saltmarshes and Mediterranian pines.
The route is easy so it is a good idea for a relaxing walk, can be done on the bike too, easy enough to do it with kids. Great trip all year long: on the windy summer day, in the spring to see all beautiful flowers, in autumn with the orangy brown palette of colours. It would take you about 3 hours with the drive there and back. Enjoy the views!
Photos Kasia Lunska, May 2020