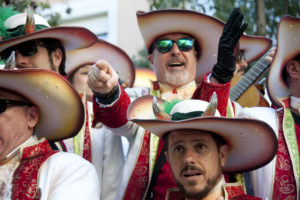 It´s a Cadiz Carnaval time of the year again. The Carnaval here is very specific and definitely worth to see. That is the reason why is an international tourist attraction. This year Carnaval starts on Thursday 28th of February 2019 (which is also a Day of Andalucia) and ends on 10th of March 2019. During this 10 days Cadiz turns to thousands of little scenes. On every corner you can see different "chrigota" (carnival group) performing. The performing groups are made of friends and colleagues from work or school or neighbours. Anybody who wants, have an idea of funny "copla" (which is like a cabaret song, making lough of the government, local authorities, mothers-in-low etc) and wants to perform, sing and play – can do. All the groups are fancy dressed in theme of the name of the group.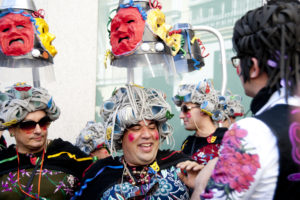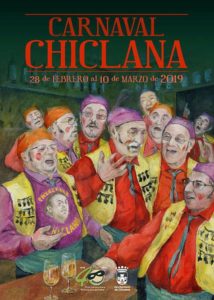 The only tricky bit for tourists is that most of the songs are sung in the local dialect from Andalusia, which can be difficult to understand even for Spanish from different regions. It could be a good idea, to have someone local with you. The carnival atmosphere in the town is very special. Almost every single person is in fancy dress, bustling tapas bars and restaurants, lots and lots of people on the streets. Especially weekend, as it is a very long weekend here, can be very busy.
During that time there will be many carnival attractions in town. On Sunday 3rd of March you can watch Big Carnival Procession (Gran Cabalgata) with music and big characters from cartoons. Starting from Sunday, you can also watch "Carruseles de Coros". They are big groups on the platforms, singing and playing and moving around old town. You can also find some competitions on dancing tango, pasadoble (from 2nd of March at 1pm on the Plaza Candelaria) and some attractions for the kids on the Plaza de San Antonio (2pm – 7pm on 9th and 10th of March).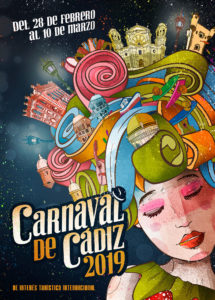 Other towns also will organise carnival events. Of course the ones in Cadiz are the biggest as this is acapital of the province. But Chiclana de la Frontera also will have their Cabalgata Infantil (Kid´s Carnival Procession) on Friday 8th of March at 17:00 and on Saturday 9th of March – Cabalgata del Humor (funny Procession). Crowds will be waiting by the sides of the route.
So, prepare your costume, good shoeas to walk and dance and see you on the streets of Cadiz and Chiclana during Carnaval 2019.
Photos Kasia Lunska, Cadiz Carnival 2018