Have you ever visited Cadiz during famous Carnival?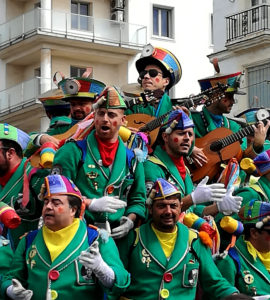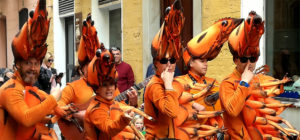 Well, this event is something special, and please don´t be misled by its name "Carnival".  Don´t expect anything like Rio de Janeiro or Notting Hill Carnival. In Cadiz Carnival is a Family Fun. Almost everybody wear fancy dresses, the whole families dress up with the similar pattern, people are on the street – eating, drinking, and having fun. But the main joys of Carnival are "chirigotas". They are cabaret songs with lyrics made especially for the carnival. The lyrics are about current political situation or as simple as mother-in-low jokes. "Gaditanos" (citizens of Cadiz) have good sense of humour and they really can lough from themselves. The groups are performing in the streets of Cadiz, they are all in fancy dresses, and they play and sing. The groups are called "legal" when they are participating in the official Carnival Groups Competition or "illegal" when they are just groups of friends performing for fun.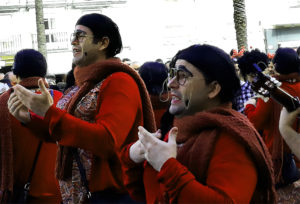 As foreigners probably you will need a good Andalusian translator to understand what they are singing about. It took me five years, to be able to understand the jokes and slang from Cádiz. But the atmosphere is great. And you can be sure you would not see this type of carnival anywhere else.
This year Cadiz Carnival 8-18th of February 2018.
Photos from Cadiz Carnival 2017 – K. Lunska