FREE-LIVING MACAQUE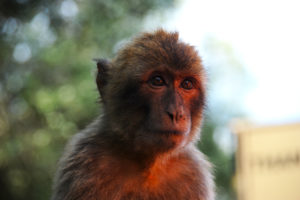 The most famous free-living macaques are the Barbary Macaques – inhabitants in the Rock (Gibraltar). They were also found in Atlas Mountain of Algeria and Morocco. It is one of the best-known Old World monke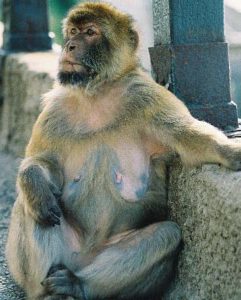 y species. Besides humans, they are the only primates that live freely in Europe.
Although the species is commonly referred to as the "Barbary Ape", the Barbary Macaque is a true monkey, not an ape forming mixed groups of several females and males with its hierarchy determined by lineage to the lead female. Unlike other macaques, the males participate in rearing the young. In this way, a strong social bond is formed between a male and his offspring and those of others in the troop.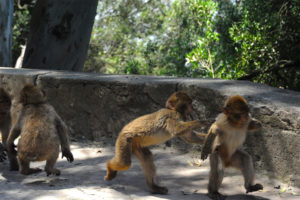 The mating season runs from November through March. Typically one baby per female is born; twins are a rarity. The monkeys reach maturity at 3 to 4 years of age, and may live for 20 years or more.
The last wild population in Europe is that of Gibraltar, which unlike that of North Africa is growing. At present there are some 240 animals in the area of the Upper Rock, though occasional adventures into the town may result in damages to personal property.
Gibraltar is only one hour away by car from Cortijo Flamingos – great one day trip. We recommend leaving a car on the Spanish side of the border and walk across, to avoid traffic and special car insurance. Then you can choose various ways of visiting the rock: by mini-van cab (driver is also a guide and tell you the history and interesting facts about Gib), by foot to the cable-car which will bring you up to the rock, but then you will have to walk around to see all the attractions and finally all the adventure by foot.
BIRDS WATCHING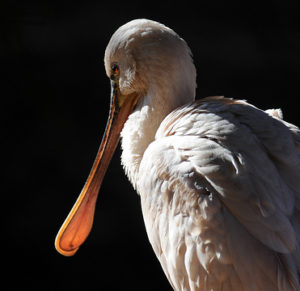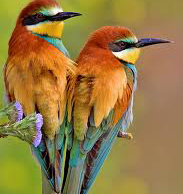 Andalucía has many resident birds and also attracts many migrants.
The mountains play host to many large birds of prey such as griffon vultures and various eagles.
The salt marshes have flamingos, spoonbills, black-backed stilts, green shanks, bee-eaters and many other waders. Flamingos can be seen almost every day from Cortijo de los Flamingos. Watching them landing, taking off and flying over the villa is unforgettable view.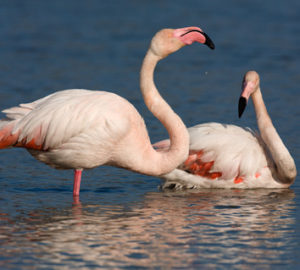 Along the coast between Sanlúcar and Tarifa are various viewpoints from which to watch the resident and migratory birds. Chiclanahas a large area of salt marshes, which provide an ideal habitat for many species of bird.
There is a visitors' centre in Chiclana de la Frontera – Salinas de Chiclana which organise summer camps, workshops and educational activities every Sunday.
In nearby San Fernando there is also great Centro de Visitantes Parque Natural Bahía de Cádiz and they organise various guided tours while you can observe many local birds.
Andalusian Horses
Andalusia, is the breeding grounds for the Andalusian horse, a strong and powerful race favoured by Moorish kings and thought to have evolved from the Portuguese breed. From The Royal Andalusian School of Equestrian Art, through Feria de Caballos in Jerez de la Frontera, famous Beach Horce Raicing in Sanlucar de Barrameda to horse riding during the sunset on the beach. This is a place for horses lovers!
Golf
The magnificent climate allows professionals and amateurs to enjoy golf all the year round. Cadiz is one of the best golfing holiday destinations in Europe.
Events and Festivals
In Andalucia you will find plenty of Events and special Holiday. Every season has it´s own celebrations: Carnival, Ferias, Easter, Horse Races on the beach, Fishing, Religious celebrations, Christmas and many more.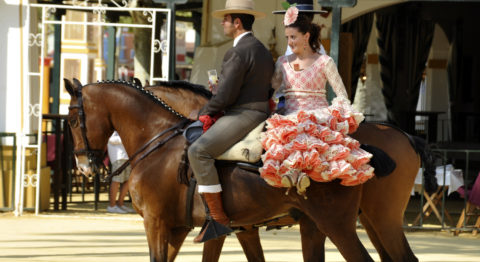 Surfing, Kite Surfing and Windsurfing
Some of Spain's best surfing, kite-surfing and wind surfing spots are situated in between Tarifa and Cádiz on the Costa de la Luz. In fact, it is the town of Tarifa (Cádiz province) which is considered the birthplace of Spanish surfing. Here you will find national and international surfing championships and events.
All year round you can catch a good wind in Cádiz and Chiclana de la Frontera although if you are planning your holidays to spend it on the waves and catching the wind, the best time will be out of the season.
Windsurfing is one of the most popular sports in Chiclana de la Frontera and attracts water sports enthusiasts from all over the world to this beautiful region in Spain.