Costa de la Luz (Coast of Light) is famous for the clear turquoise sky and the most beautiful beaches in Spain. And that is true – all year round. This part of wavy Atlantic coast shows its most beautiful face here. The beaches are located mostly in rural natural surroundings with plenty of sand dunes and pine trees.
The European Environmental Education Foundation awards an annual prize named the Blue Flag which represents the quality of the beaches and ports that meet all environmental regulations. Andalucia has a large number of these flags, offering the safety and the international support that its beaches can boast.
LA BARROSA, located in Chiclana de la Frontera is one of the best beaches in Cádiz. The beach is 8 km long with very clear water and it has been awarded the Blue Flag almost every year since 1987. This beach and many more are only 15 minutes away from Cortijo de los Flamingos.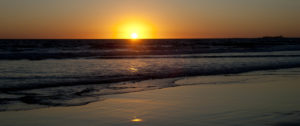 In the summer you will get great views over the Sancti Petri castle as the sun sets exactly behind the castle (if you watch it from the side of old village Sancti Petri). The sunsets with reddish tones and the shade of the tower are spectacular.
La Caleta is a beach located in the historical centre of the city of Cádiz and was a natural harbour where Phoenician, Carthaginian and Roman boats were anchored. This is the smallest beach in the area and is covered from the wind and waves. It was pictured in James Bond movie, Die another Day. This beach also hold the Blue Flag title.
La playa de la Victoria with main promenade in Cádiz – Paseo Marismo and many tapas bars overlooking the sea. La Playa de Santa Maria del Mar – small and intimate, covers the ancient walls of Cádiz. La Playa de la Cortadua – the most unspoilt golden sand beach in Cádiz!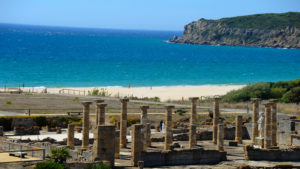 On the other direction from Chiclana you will find Playa El Roche with many little isolated bays among the rocks, then El Palmar, Zahora, Faro de Trafalgar (where in 1805 naval Battle of Trafalgar took place), Los Caños de Meca, Zahara de los Atunes, Bolonia (with amazing roman ruins of Baelo Claudia, tow which was settled some 2000 years ago) and beaches in Tarifa (Valdevaqueros, y Los Lances) most famous of it´s wind which blows almost all year round and make them a capital of Kite Surfing.
National Parks
Sierra de Grazalema Natural Park is one of Andalucia's most visited parks with its wildelife, rugged limestone landscape and great hiking territory. The Alcornocales Natural Park – gentle walking experience amid centuries-old cork oak woodland. The Estrecho Natural Park – prime spot for viewing the twice-yearly migration of birds between Europe and Africa. The Bahía de Cádiz Natural Park has one of Europe's most important wetlands.
Sea Wildlife – whales, dolphins
Throughout the year we can watch in the Strait of Gibraltar: long-finned pilot whales, bottlenose dolphins, common dolphins, and striped dolphins. If we are lucky, we might also see orcas, sperm whales or fin whales.
Towns: Chiclana, Cadiz, Sevilla, Jerez, Giblartar
The old walled towns of Cadiz province and Sevilla are densely packed with medieval churches, Arabic forts, watchtowers, palaces, bodegas, tobacconists, scooters, bars full of bullfighting paraphernalia, and people eating fish at rickety tables that block the traffic.